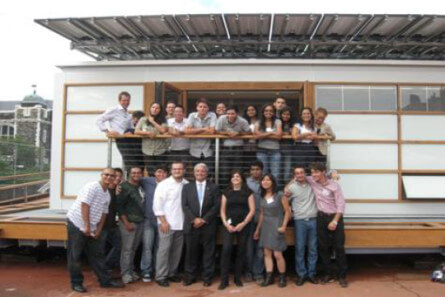 Join us for CCNY Solar Roof Pod Saturday!
Calling all CCNY Alums and friends!
Join Carol this Saturday, September 3rd for Solar Roof Pod Saturday. The CCNY Solar Decathlon team is heading to Washington DC to compete in the international competition on September 23rd and needs your help building, sponsoring and cheering on the team! The pod is located on the roof of the Marshak (Science) Building, use the stairs at the NAC building & cross over the bridge @ Convent Ave.
Visit us all day, starting at 9am. Stay as late as you like, bring work clothes, tools and lots of elbow grease! A $10 entry donation is appreciated to help our team in the final stretch before the Pod makes it's debut on the Mall in Washington, DC. Win a raffle prize for an overnight stay in DC during the Solar Decathlon!
Visit the pod on the web at ccnysolardecathlon.com or email ccny.archalumni@gmail.com for more details. We hope to see you there!