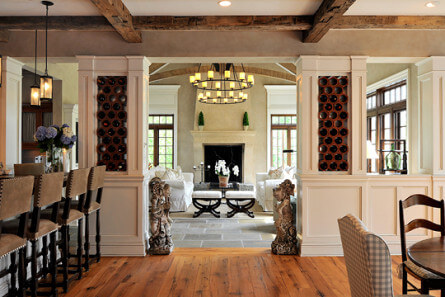 Farm-to-Table Residence wins Westchester Home Best in Show Design Award
The firm's Farm-to-Table Residence has been awarded the 2013 "Best in Show" Design award from Westchester Home Magazine. Jury comments included: "a gorgeous, integrated concept carried through from outside to inside and from living room to greenhouse. You know you are in the same space, yet the idea is interpreted in so many different, creative, and comfortable ways…" and "The décor clearly defines the spaces, yet exudes drama and serenity at the same time. Great use of architectural elements help to define the ceilings and add to the drama of the space." Read more at WestchesterMagazine.com.
The Oakhurst Residence was also awarded a Westchester Home Magazine Design Award in the "Classic Exterior Architecture" category. Jury member Pedro Lima commented: "the front façade of this home features exquisite rooflines and dormers, as well as a gorgeous combination of materials such as wood shingle siding, stone, copper, and painted trim. The architectural detailing around the eaves and rooflines helps to punctuate the dynamic and intricate lines of the dormer windows as they break the rooflines. It is an excellent example of symmetrical balance." Read more about this award-winning project at WestchesterMagazine.com.
Contact Jessica Wyman for more information.