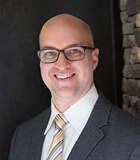 John E. Rapetti, Assoc. AIA, LEED AP
Mr. Rapetti has been an integral member of the firm's architectural and graphic design team since 1999. He is an accomplished designer and has managed many of the firm's complex residential projects, including the modern Art House 2.0 and the widely published, award-winning Five Star House, which blends historical barn structure design with contemporary forms, spaces, and materials. John has also been involved in numerous renovation projects at the firm, including traditional, historical, and commercial interiors. In addition, he has been instrumental in establishing the firm's 3D visualization and web capabilities, and in the development of marketing collateral for turnkey residential and commercial developer projects.
John graduated from Roger Williams University with a Bachelor of Architecture degree and a minor in Visual Arts and Graphic Design. He is an associate member of the American Institute of Architects and a LEED accredited professional.